A newly fabricated artisanal refining equipment being installed in Rumuji community forest in Emohua local government area in Rivers State has been busted by a team led by Chidi Lloyd, Chairman of the Council
Lloyd had initiated an onslaught against Illegal oil refiners in Emuoha in compliance with the directive of Governor Nyesom Wike to all council Chairmen to rid the State of cancerous soot.
Acting on credible intelligence,Lloyd on Wednesday led a combined team of security personnel and Task force on illegal oil bunkering activities to a newly constructed illegal petroleum refining site in Rumuji town, Emohua local government area.
Construction work was being concluded for the take off of the new illegal refinery with over 15 tanks and receivers already fabricated and installed in the site.
Lloyd regretted the involvement of highly placed individuals and security personnel in the illegal oil bunkering activities which has brought health related challenges and economic damages to the people of the local government area and Rivers State.
He called for the intervention of the federal government to ensure that the menace is brought to an end.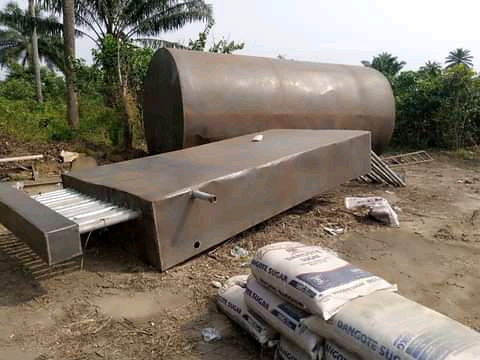 He thanked governor of Rivers State, Nyesom Wike for championing the fight against soot, which is majorly caused by illegal oil bunkering activities in the state.
However, he stressed that the success of the fight against soot depends on the sincerity of federal government controlled security agencies who are empowered to fight oil theft and other criminal activities in the country.
The Council Chairman called for the support and cooperation of community stakeholders, especially in the area of information gathering, to collectively end the soot problems the local government area.
He vowed that his administration will not rest until emission of cancerous soot due to the activities of illegal artisanal refiners popularly called Kponfire.
Wike had declared some kingpins involved in the illegal petroleum products refining business wanted.