"I Didn't Have Sex With Femi Fani-Kayode For 6 Years Because He Could Not Perform In Bed. Our Four Children Were Conceived through Artificial Insemination"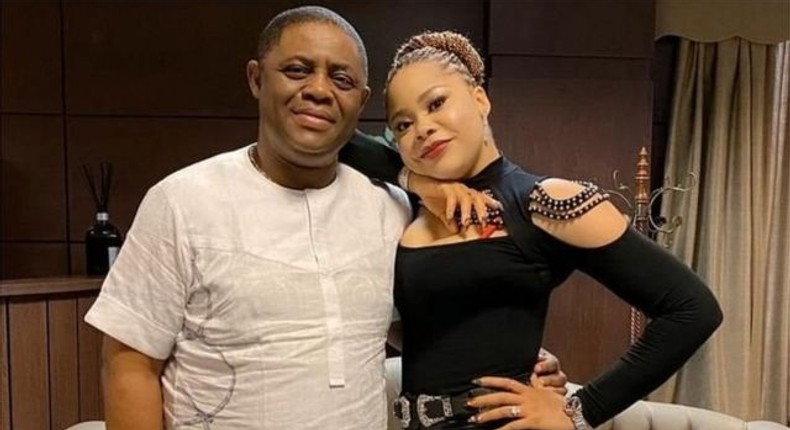 Femi Fani Kayode and his estranged wife Precious Chikwendu
Precious Chikwendu, former beauty queen and estranged wife of former minister of Aviation, Femi Fani-Kayode, has revealed that he could not perform in bed.
The mother of four made this known in a lawsuit filed before a Customary Court in the Federal Capital Territory (FCT), Abuja.
According to her, she was unable to consummate her marriage for six years because the former minister of aviation had erectile dysfunction.
"At every attempt, the petitioner made to have sexual intercourse with the respondent, there was never erection of the respondent's penis/manhood and penetration was frustrating," part of the suit read.
"During such periods of frustration and sexual desire, the petitioner would be left with the choice of merely rubbing herself on the respondent, to have the slightest bit of relief."
"The petitioner then insisted parties should seek medical help for the respondent, and on visiting the family doctor, the respondent claimed he was diagnosed of having a cyst on his penis/manhood, which is not allowing the respondent to have erection and or perform sexually."
This suit is coming days after Chikwendu granted an interview where she called out Fani-Kayode for preventing her from having access to her children
"The children are with him, I haven't seen them since August 2nd, 2020. Yes, since August 2nd, 2020, I haven't seen my children and I've been physically prevented from seeing them," she said.
Fani-Kayode and Chikwendu have been at loggerheads since their separation in 2020.
The former aviation minister and his estranged wife have accused each other of several allegations including, infidelity, domestic violence to mention a few.