The Independent National Electoral Commission (INEC) has officially begun recruitment for Nigerians interested in serving as ad-hoc staff members during the forthcoming off-cycle governorship elections scheduled for November 11, 2023.
Eelections are set to take place in Kogi, Bayelsa, and Imo States.
Ahead of the elections, the electoral body has instructed eligible individuals to apply for various ad-hoc positions.
These positions include Supervisory Presiding Officers (SPOs), Presiding Officers (POs), Assistant Presiding Officers (APOs), Registration Area Technicians (RATECHs), and RAC Managers.
Also, the INEC Portal for the Recruitment of Election Staff (INECPRES), is set to go live on Thursday, August 31, 2023.
Applicants have the opportunity to submit their applications until midnight on October 2, 2023. Qualified applicants must meet the criteria below.
INEC advised prospective applicants to visit the official registration portal (https://pres.inecnigeria.org/) to complete their application process.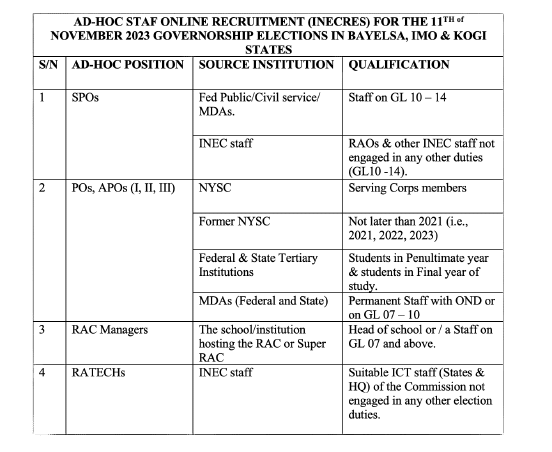 For individuals in need of technical assistance during the application process, the electoral body listed the following help desk details to guide applicants for the different states.
BAYELSA:
Rukayat: 08123871346
Chioma: 08036936180
IMO:
Bolaji: 08059653879
Lizzy: 08098604364
KOGI:
Queensly: 07055494581
Buhari: 07083613700
INEC pledged to uphold the integrity of the electoral process and ensure that the governorship elections are conducted in a transparent and efficient manner.