RE: BILL TO PROSECUTE PROTESTERS BY HON. CHINEDU MARTINS EMEKA. This is to bring to public notice that Hon. Emeka M. Chinedu, the intention is to stop jungle justice in Nigeria not to stop protesters in Nigeria.
Member Representing Ahiazu/Ezinihite Mbaise Federal Constituency did not sponsor any bill to criminalize peaceful protesters in Nigeria.
https://twitter.com/i/status/1654055846827925504
What happened was that he sponsored a bill to prosecute MOB, those who take laws into their hands to carry out jungle justice in Nigeria and not to prosecute protesters.
For some unknown reasons, the bill was twisted and published in the papers. On seeing what happened and the concerns of
Nigerians, he came back to the house to withdraw the bill.
"One, therefore, wonders about the correlation between Criminal Code Cap 38 of the Federation of Nigerian which talks about Mob Action and Riot, and the combined Section 39 and 40 of the 1999 Constitution as amended, which talks about fundamental Human Rights to Protest.
"And also, what has the Aluu Four of Chuba in Rivers State, which I referenced as empirical evidence, got to do with Labour, Political or other lawful protests as the case may be?
"It is deserving to state unequivocally that in all these, I never prescribed a penalty for offenders since the penalties were already enshrined. Rather,  mob action was copiously given a definition that was not clearly captured ab initio.
"While it is incomprehensible how a Bill against jungle justice turned to the criminalization of lawful protest in a democratic state like ours, I am by this clarification advising well-meaning Nigerians, especially my teeming adherents to disregard the incoherently deceptive news, as I, Hon. Emeka Martins Chienedu is not only a product of justice but a man of his people, who believes in a democracy where rule of law is sacrosanct."
Another surprising thing happened in the house, he was shocked to see that the bill was listed again without his authorization which raised the suspicion that the APC had a sinister plan or agenda to push the bill using his name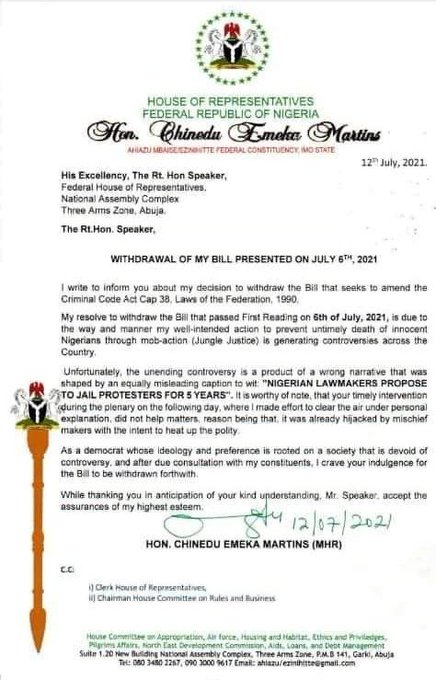 He returned to the house and moved another motion for the bill to be withdrawn as seen on the videos on the first and second thread.
All these transpired in 2021 and Vanguard newspaper even made a publication to retract their former publication which misinformed the public.
Yesterday this bill resurfaced on the internet for God knows what and it started trending again causing a backlash on the personality of Hon. Chinedu Martins.
There's no doubt that the APC is at work again but whatever their agenda is this time must fail, let's spread the truth
and inform Nigerians that there's no such bill in existence. We will not be used as tools of dehumanization to Nigerians by the APC and their cohorts.
We will always stand for truth at all times because the new Nigeria is already here!
His aim was to stop mob actions, jungle justice not protesters.